Mobile BI Vendor, Klipfolio Inc, and Clipboard Replacement Solution Provider, Zerion Software Inc, Sign Technology Partnership
New partnership to make it easier for businesses to collect and visualize data using iPads and iPhones.
Herndon, Virginia, USA and Ottawa, Canada (PRWEB) March 13, 2012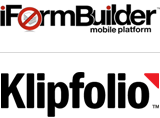 Klipfolio Inc and Zerion Software (creators of iFormBuilder), today announced an important technology agreement designed to make it easier for businesses collecting and visualizing data using mobile devices such as iPads or iPhones. iFormBuilder is a clipboard replacement solution that is used in over 100 countries world-wide and specializes in mobile data collection via iPhones, iPads, and other mobile devices. Klipfolio Inc, a leader in KPI dashboards, develops both desktop and mobile BI solutions to increase the visibility of key performance indicators (KPIs) for informed decisions that improve performance and profitability.
This partnership is already generating buzz among each company's customer base: "I am excited for the partnership between Zerion Software and Klipfolio," says Max Joy, mutual customer of both companies. "I believe this partnership will be incredibly well received and set a new standard for web-based dashboards."
The terms of this technology agreement will benefit customers of Klipfolio and Zerion Software and are as follows:
    Although the two systems integrate today, Klipfolio Dashboard and iFormBuilder will continue to simplify and refine the ease with which data can be shared, allowing users to create and monitor KPIs on their mobile BI dashboard.
    Zerion Software will offer extended evaluations of Klipfolio Dashboard to its customers: 30 days for Basic or Pro accounts, 6 months for the Exploring or Growing Plan, and 1 complimentary account for the Emerging Plan (Try iFormBuilder free for 30 days).
Sze Wong, CEO of Zerion Software had this to say about the partnership:
"iFormBuilder and Klipfolio Dashboard share a similar target market and have a similar vision. We both target smart enterprises and we both focus on what we do well. With our partnership, we can compliment each other's service and give our clients end-to-end support from data collection to data visualization. Our clients are already excited about using Klipfolio as the visualization layer."
About Zerion Software, Inc.
Zerion Software creates mobile applications for businesses of all sizes, focusing on the Smart Enterprise Market on emerging platforms including the iPhone, iPod touch, iPad and Android. Founded in 2003, Zerion Software's SaaS based mobile business applications help businesses reduce costs, increase productivity, and improve customer satisfaction. Zerion Software's flagship product, iFormBuilder, is an award-winning, patent-pending mobile platform that is being used across the globe in many different industries, including eTicketing, medical research, facility inspections, work order management, and fleet tracking.
For more information visit https://www.zerionsoftware.com, or email marketing@zerionsoftware.com.
For inquiries only please contact: Elaheh Eghbal at marketing@zerionsoftware.com
About Klipfolio Inc.
Klipfolio develops Klipfolio Dashboard – the KPI Dashboard – to help the Fortune 1000 increase the visibility of key performance indicators for informed decisions that improve performance and profitability. Klipfolio Dashboard is the only enterprise dashboard that presents information where it's always visible and actionable. Clients include Intel, Staples, Aviva, Baxter Healthcare, and Lufthansa.
For media inquiries only, please contact:
Allan Wille at press@klipfolio.com